The Winter Ball Experience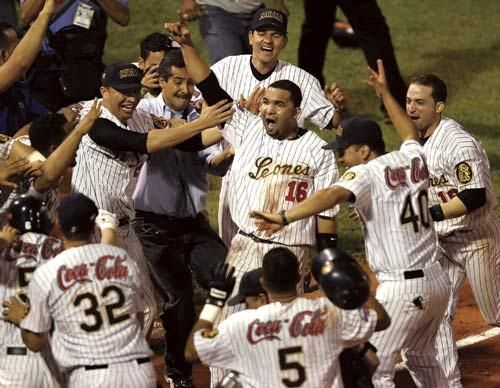 Offseason baseball has its plusses and minuses.

For the player it provides an opportunity to play in more games or Latin players to play baseball in their home country. It gives upper level minor league players a stage to showcase their talents in a tougher environment, or allows a chance to make up at bats or innings pitched because of an injury which may have resulted in a player missing significant time during the previous season.

For the organization it provides an opportunity to get more looks at some fringe Major League players in their system. It can also serve as an opportunity to test out some minor tweaks applied to a big league player prior to the start of spring training, be it a change to a delivery, a new pitch, or a revised batting stance.

There are several offseason winter leagues, most of which are fluid as every season a league comes and goes. But the two main ones are the Dominican Republic Winter League and the Venezuela Winter League. Other winter leagues available for players to play in this offseason are in Puerto Rico, Colombia, Panama, Mexico, and Australia.

The rosters for these leagues are mostly made up of players from each country, many of which are not currently in Major League Baseball (MLB) or the minor leagues. A lot of MLB players that are from countries that have an offseason league will play a significant amount of games because they are treated like rock stars by their countrymen and because in some ways it is a bigger deal to play for their county than it is to play MLB in the United States.

There are a few American players sprinkled about in each league. For the few American players that go out and play winter ball every year it can be an eye opening experience. For a lot of the players it is the first time they have ever left the United States or Canada. Not only is it an education of playing baseball in a foreign country, but it is an education in itself to live in the culture.

"I'm from a small town in Kansas, so travelling to different parts of the United States has been an eye opening experience for me," Jared Goedert said, an infielder with the Cleveland Indians that played winter ball in Venezuela last year. "It is hard to describe. By our standards it is not up to what we are used to, so I appreciate where I live even more so having gone there. I also have a greater appreciation of Latin players and see why they work so hard and are so grateful since unfortunately a lot of people don't have much down there."

To play winter ball players have to get clearance from their MLB team before they can go, but in most cases the players that do want to go are allowed. In fact, for a lot of the fringe Major League guys the organization encourages that they go play winter ball.

"I actually think that there are certain players that can benefit a lot from it, especially position players that are on the cusp of the big leagues," Indians Scouting Director John Mirabelli said. "Guys that maybe have had some success and maybe a half a season or so in the big leagues. You are going to see some good arms, some good breaking balls, and it is an intense environment. I really do think it is a benefit for those kinds of players, those upper level guys in Triple-A that are on the cusp."

The organization cannot make a player go play as it still ultimately comes down to the player whether they want to go or not. Once a team knows who wants to go play winter ball, in July and August they will start contacting winter league teams to try and find roster spots for players, and sometimes agents will assist as well. The leagues are run independently, so it is up to the league and not MLB on what players are chosen.

When a player is accepted by a winter ball team, the MLB organization and winter ball team then come to an agreement with how the player is to be used in order to not put them in harm's way.

"Yes, there are agreements from our Player Development to their people on restrictions and usage," Mirabelli said. "I think we are pretty much in agreement on that, especially with guys coming off injuries or who have a lot of innings we put a pretty definitive plan in place. The teams there realize that. They would rather have a pitcher with limitations than no pitchers at all. Where you have issues is that they are so competitive and looking for performance they release guys. It happens all the time. Those guys are trying to win down there, so if you send a guy down there for extra reps and he does not perform, there are no guarantees with the playing time as they will release you in a minute."

MLB teams do not pay anything as the winter ball team picks up all of the expenses for the American players for their entire trip from start to finish. Players receive a monthly salary from the winter ball team of anywhere from $5,000 to $10,000 depending on service time, though more popular players may receive more money. The winter ball team also picks up the roundtrip airfare, hotel, daily meal money, and even a roundtrip flight for a spouse.

For the minor leaguer that makes about $1000 or so a month, they may make more in one month playing winter ball than they did the entire minor league season in the states. So the lure is not just about playing in more games, but financially driven as well.

"I think the money is a big factor," Goedert said. "It is a month and a half of work. Just getting that experience and playing to win is good. In the minor leagues the emphasis is on development, where in winter ball it is all about winning. That's what I expect the big leagues to be like. Just playing in that atmosphere putting the importance on winning along with making more money made it worth it."

American players stay in a hotel as setup by the winter ball team. Most of the hotels have an attached mall that has shops and restaurants which is beneficial to the Americans since it can be hard to get around with lack of transportation, the language barrier, and also how unsafe the area can be.

Most of the American players never go outside except for when they are on the baseball field at the stadium. Each day consists of several hours in their hotel room, maybe a quick venture down to the attached mall, and then being transported to and from the hotel by a van with security personnel. Because of the violent nature of most of the Latin countries, security will meet the player in the hotel and transport them through the city and drop them off right outside the clubhouse door at the stadium.

Security is a big issue in a lot of the Latin countries where winter ball is played, something that came to light earlier this offseason when Nationals' catcher Wilson Ramos was kidnapped a month ago. A lot of the countries are violent and have people walking around carrying guns. Anyone that has money or the perception of having money is at risk.

The Indians used to have a rookie level team in Venezuela a few years ago, but they pulled their operations there because it was just too unsafe for their players as there were a few incidents where players were robbed at gun point. Now they have their entire Latin program in the Dominican Republic.

It can be a very unsafe environment for anyone, especially foreigners who are not used to it. American players only spend about six to seven hours at the baseball field, which means almost three-quarters of the day they are stuck inside their small hotel room because they dare not go outside.

This can lead to a lot of boredom as players run out of options to pass time. With internet service that can often be unreliable and television programming that is all in Spanish, the iPod gets a lot of wear and tear and lots of books are read.

"That was something I did not anticipate, which was how much down time we would have," Goedert said. "I did bring a few books, but I also anticipated streaming a lot of Netflix, but you can't access it down there. I thought I was going to be able to knock out a couple of seasons of something. I really looked forward to Monday night if we weren't playing so I could watch some football. I definitely wish I would have brought more things to read."

With all of the security risks one might wonder why any American players even go play winter ball in some of these countries. In reality, the security for the players is actually pretty good and the players feel safe. Also, playing baseball and getting more reps is ultimately all that matters, especially for the minor league player as it gives them experience playing in a more raucous environment.

"Every game their fans are nonstop for nine innings yelling, screaming and cheering all game," Goedert said. "Baseball and soccer is what they live for down there. They do not have football and hockey or other sports to take away their interests. They know all the players. That part of it was really cool. But if you don't get a bunt down or strike out with a guy on third base, they are going to be all over you. They are harsh and it doesn't take them long to feel that way toward you."

Follow Tony and the Indians Prospect Insider on Twitter @TonyIPI. Also, his latest book the 2011 Cleveland Indians Top 100 Prospects & More is available for purchase for $20.95 to customers in the US (shipping and handling extra).
Follow Tony and the Indians Prospect Insider on Twitter @TonyIBI. Also, his new book the 2013 Cleveland Indians Baseball Insider which profiles the Indians' Top 100 Prospects and more is available for sale.
User Comments
No comments currently. Be the first to comment!