Looking Back at the Draft: 1995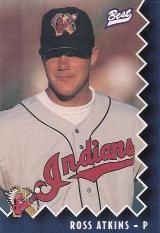 The year is 1995.
Would-be terrorist
Ramzi
Yousef
is arrested for planning to blow up U.S. bound airliners over the Pacific Ocean. The Dow Jones Industrial Average closes over 5,000 for the 1st time ever. Members of the
Aum
Shinrikyo
cult release
sarin
gas into the Tokyo Subway, killing 12 and injuring over 5,000.
Forrest Gump
wins the Oscar for Best Picture. USAF Captain Scott
O'Grady's
F-16 is shot down over Bosnia; he evades capture for six days before being rescued by the Marines. In response to evidence produced by
UNSCOM
, Iraq admits for the first time the existence of an offensive biological weapons program. OJ Simpson is
acquitted
in criminal court for the murder of his ex-wife and her friend. Israeli Prime Minister Rabin is assassinated.
UNSCOM
intercepts 240 Russian gyroscopes and accelerometers on their way to Iraq from Russia.
DVD's
are invented.
Ebay
is founded.
The Cleveland Indians participate in baseball's post-season for the first time since 1954, and win a post-season game for the first time since 1948. A magical strike-shortened season revives professional baseball in Cleveland, and ushers in a new era of Cleveland Indians baseball. Albert Belle belts 103 extra base hits in just 144 games, and the Indians go a remarkable 100-44 in the regular season. The run comes to an end in Game 6 of the World Series against Atlanta, but what a season it was.
Indians 1st round pick:
With the 23rd pick in the draft, the Indians selected 1B
David Miller
out of Clemson University. He was named Clemson's MVP in 1995, and was a 2
nd
team All-American and 1st team All-
ACC
player. Miller hit .301 with a .773 OPS in 1996 for Akron, but that was his best season in the minors. Miller never played a game in the majors, and only spent one season above AA. His career average in the minors was just .260, and he only hit 35
HR's
in 2289 career
AB's
.
Disappointing
, to say the least.
Best 1st round pick:
Its close, but right now I'm going with Rockies 1B
Todd Helton
, selected 8
th
overall out of Tennessee.
Helton
hasn't exactly been an elite player for a few years now, but in his peak he was one of the best hitters in baseball.
Helton
put together seven straight seasons with an OPS over .980, and has a career OPS of .989. He's hit 326
HR's
and has a career batting average of .327. His best single season came in 2000, when he led the
NL
in hitting (.372) doubles (59), RBI (147), total bases (402),
OBP
(.463),
SLG
(.698) and OPS (1.162).
Honorable mention:
Toronto selected pitcher
Roy "Doc" Halladay
17
th
overall out of a Colorado high school.
Halladay
won the 2002 AL Cy Young award, and is still one of the better pitchers in baseball...Indian reliever
Kerry Wood
was chosen 4
th
overall by the Cubs, and burst on the
MLB
scene by striking out 20
Astros
as a 21-year old in 1998...The Angels took OF
Darrin Erstad
1st overall, and he made two all-star teams and won three Gold Gloves before retiring after last year.
Indians best pick:
With their 2
nd
round pick, the Indians selected another collegiate 1B from the Atlantic Coast.
Fortunately
, their selection of
Sean Casey
out of Richmond turned out much better than the choice of Miller. Casey only played 6 games for the Indians before being dealt to the Reds for pitcher Dave
Burba
just days prior to the 1998 season. "The Mayor" was a steady presence both in the clubhouse and in the middle of the Reds order for eight seasons before being traded to Pittsburgh in 2005. Casey retired after 2008 with a .302 lifetime batting average, 130 career
HR's
and three all-star appearances. He was blocked at 1B in Cleveland by Jim
Thome
, and the trade to
Cincy
worked out well for both teams.
Honorable mention:
N/A. With the exception of Casey, no one drafted by the Indians in 1995 finished with a WAR (wins above replacement) above 0 in the major leagues. Another poor, poor draft for the Tribe. The team did select a solid front-office guy though, with their choice of
Ross Atkins
in the 38
th
round out of Wake Forrest. Atkins never made the Indians as a pitcher, but he's doing pretty well for himself nonetheless.
Best early round picks:
The Giants took closer
Joe Nathan
in the 6
th
round, and ended up trading him to Minnesota in a package for catcher
AJ
Pierzynski
...Florida chose OF
Randy Winn
in the 3rd round...Kansas City took
Puerto
Rican
OF
Carlos Beltran
with their 2
nd
round pick...In the 8
th
round, the
Mets
took
flamethrowing
righty
AJ Burnett
out of an Arkansas high school...Minnesota selected defensive
wiz
Doug Mientkiewicz
in the 5
th
round...Pittsburgh chose current Reds starter Bronson Arroyo in the 3rd round...Also in the 3rd round, Texas picked up starter Ryan
Dempster
.
Best late round picks:
The Cubs selected and signed pitcher
Justin Spier
in the 55
th
round...Detroit chose
Gabe "The Babe" Kapler
in the 57
th
round out of a California
JC
...Seattle came up with a solid pick when they took future closer
Brian Fuentes
in the 25
th
round.
The ones that got away:
The Brewers took pitcher
Kip Wells
in the 58
th
round, but he elected to go to Baylor instead...The Dodgers selected
Brad Wilkerson
in the 13
th
round, but they were unable to come to terms...San Fran took pitcher
Brad Lidge
in the 42
nd
round out of a Colorado HS, but decided to attend
Notre
Dame...The
Mets
selected but couldn't sign
Aaron Rowand
, who was a high school shortstop...Baltimore took IF
Jerry Harriston Jr.
in the 42
nd
round, but he wouldn't sign with the club until they chose him in the 11
th
round in 1997...Boston picked
Pat "The Bat" Burrell
in the 43rd round, but he attended the University of Miami instead...The Yankees took 3B Casey Blake out of Wichita St in the 45
th
round, but they were unable to come to terms.
Other interesting picks:
Future Cowboys QB
Chad Hutchinson
was selected in the 1st round by the Braves, but he became the only 1st round pick in 1995 not to sign when he opted to attend Stanford instead...Baltimore took OF
David Dellucci
in the 10
th
round out of Ole Miss...Detroit took OF/SS
Lawyer Milloy
in the 19
th
round, but he remained committed to football...The Yankees took OF
Daunte
Culpepper
in the 26
th
round, but the QB decided to go to college and play football instead...Seattle took future Indians utility IF
Ramon Vazquez
in the 27
th
round.
Indians June 1995 Draft:
1. David Miller, 1B
2. Sean Casey, 1B
3. Chad Whitaker, OF
4. Scott Harrison,
RHP
5. Scott Schultz,
RHP
6. Jake
Messner
, OF
7. Scott Morgan, OF
8. Tim
Jorgensen
, SS
9. Mike Edwards, SS
10. Jason Bennett,
RHP
11. Jewell Williams, OF
12. Brett Merrick,
LHP
13. Frankie Sanders,
RHP
14. Scott Winchester,
RHP
15. Darren
Loudermilk
,
RHP
16. Luis Estrella,
RHP
17. Terry Harvey,
RHP
18. Keith Horn,
RHP
19. Jason
Minici
, OF
20. Marc
Deschenes
, SS
21. Mark
Budzinski
, OF
22. Mike
Glavine
, 1B
23. Jon Edwards,
RHP
24. Ken Wagner,
RHP
25. Jason
Rakers
,
RHP
26. Frank Chapman,
RHP
27. Gary Rodriguez, OF
28. Michael Bishop, OF/C
29. Corey Richardson, OF
30. Jason
Adge
,
RHP
31. Richy Gonzalez, C
32. Michael Custer,
RHP
33. Nathan Coats, C
34. Jamie Brown,
RHP
35. Bryan Hardy, 1B
36. Jerry Taylor, OF
37. Chad
Thornhill
, SS
38. Ross Atkins,
RHP
39. Thomas Blythe, C
40. Randy
Keisler
,
LHP
41. Mike
Speigel
,
LHP
42. Dennis Martinez,
RHP
43. Bryan Ransom, SS
44. Albert Garza,
RHP
45. Kirk Irvine,
RHP
46. Rex
Crosnoe
, C
47. Sam Mathis,
RHP
48. Ryan Bailey,
RHP
49. Brian Anderson,
RHP
50. Peter Lopez,
RHP
51. Tony
Fleetwood
,
LHP
52. Michael
Ploharz
,
RHP
53. Kevin
Eberwein
,
RHP
54. Damien
Kolb
, OF
55. Brandon
Driggers
,
RHP
User Comments
No comments currently. Be the first to comment!