Looking Back at the Draft: 1994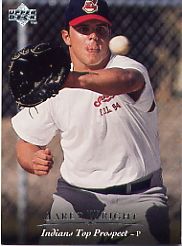 The year is 1994.

Nancy Kerrigan is assaulted under orders from her figure skating rival Tonya Harding's ex-husband. Record cold temperatures hit the Midwest, including the lowest recorded temperature in Indiana state history (-36 degrees). President Bill Clinton delivers his first State of the Union Address, calling for health care reform, welfare reform, and a ban on assault weapons. Aldrich Ames and his wife are accused and convicted for spying for the Soviet Union. Bill Clinton withdraws all U.S. troops from Somalia. Schindler's List wins seven Academy Awards, including Best Picture. Kurt Cobain, the lead singer of Nirvana, kills himself with a shotgun blast to the head. The "Chunnel" opens after seven years of construction, allowing quick travel from England to France. Nelson Mandela is sworn in as President of South Africa. The O.J. Simpson saga begins with the deaths of his ex-wife Nicole Brown Simpson and Ronald Goldman. Simpson and his friend Al Cowlings lead police on a low-speed chase throughout Los Angeles. Four ceiling tiles fall from the roof of the Kingdome just prior to a Mariners game. Iraq announces its intentions to stop cooperating with UNSCOM inspectors and again deploys troops to its border with Kuwait. After the US deploys troops to Kuwait, Iraq is forced to back down. The Whitewater investigation into the Clintons' illegal land deals begins.

The Indians move to the newly established AL Central Division and the brand new Jacobs Field. They are able to clinch a playoff spot with a 66-47 record before the players strike puts a premature end to the season. Eight of the nine Indians starters hit 12 or more home runs, and a new era in Indians baseball begins.

Indians 1st round pick: With the 10th overall pick in the 1st round, the Indians selected pitcher Jaret Wright out of Katella High School in Anaheim, CA. Wright made his Indians debut in 1997 in the middle of a pennant race, and the 21-year old did not disappoint. He went 8-3 in 16 starts in the regular season, but saved the real fireworks for the playoffs. Named the Indians Game 2 starter in the ALDS against the hated Yankees, Wright gave up 3 runs in the 1st inning in the Bronx. He promptly settled down to throw 5 scoreless innings after that to get the win and even the series at 1-1. When Sandy Alomar's heroics forced a Game 5, Wright got the ball and threw 5/13 innings giving up 2 runs and striking out 5. He only pitched in one game in the ALCS against Baltimore (giving up 5 runs in 3 IP in a no-decision), but came back strong in the World Series against Florida. He won Game 4, and was on the line to be the winner in Game 7 before...well, if you're reading this you probably know what ended up happening in Game 7. Wright was the toast of the town despite the series loss, and the future seemed unlimited for the young righthander. The Indians refused to include him in a trade package for Expos righty Pedro Martinez, who eventually went to Boston. Unfortunately, Wright was never able to replicate his postseason success, and was really never more than a league-average pitcher. He had a low strikeout rate and allowed far too many baserunners. His career WHIP was 1.55 and struck out 694 batters in 972 2/3 innings. Wright wasn't a bust, but he sure was a tease.

Best 1st round pick: This was a tough call, but in the end for me at least, consistency and longevity won out over short-term success. So I'm going with current White Sox 1B Paul Konerko, selected 13th overall by the Dodgers as a catcher. Konerko has 337 career home runs and counting, and hit 20 or more in 10 out of the last 11 seasons. Konerko has always been an Indians killer, and currently is the league leader in home runs with 11 so he clearly isn't slowing down too much.

Honorable mention: Nomar Garciaparra was selected 12th overall, just one pick before Konerko. Nomar hit .313 for his career, including a high of .372 in 2000 and won the AL Rookie of the Year award in 1997 when he went for a line of .306/30/98 with 22 steals...The 14th overall selection also ended up playing for the Red Sox, but catcher Jason Varitek was originally drafted by the Mariners. Varitek has had several solid years in Boston, including winning the Silver Slugger in 2005 despite having a lower batting average, OBP, fewer RBI's, doubles and walks than Victor Martinez. He did have 2 more home runs though...Not much in 1994's 1st round outside of picks 12-14, two of which went to Georgia Tech and ended up playing in Boston.

Indians best pick: In the 7th round, the Indians selected Russell "The Muscle" Branyan out of a Macon, GA high school. Branyan was one of the top power prospects in all of minor league baseball for several years, but had trouble breaking into the loaded Indians lineups in the mid-to late 1990's. He also had trouble making contact with the baseball when he did get into the lineup, posting some prodigious strikeout totals. But when he does make contact, the ball tends to travel a long, long way. Branyan is a career .234 hitter with 164 home runs, and his best season came last year in Seattle when he hit .251/31/76 in just 431 at bats. Branyan is limited with back issues, but if he can get healthy he can still hit home runs. And also strike out a lot.

Honorable mention: Not much else good to say about the 1994 draft. The Indians did pick up a solid reliever in the 4th round with their selection of the Vietnamese born Danny Graves. Graves didn't pitch much in Cleveland, and was packaged in a deal to Cincy for pitcher John Smiley in 1997. Graves finished his career with a 43-44 record, 182 saves and a 110 ERA+. He saved 27 or more games 4 seasons in a row before the Reds disastrously tried to make him a starter in 2003. He responded by going 4-15 with a 5.33 ERA. That experiment was over, and Graves came back and saved 41 games for the Reds in 2004.

Best early round picks: Third baseman Aaron Boone was selected in the 3rd round by the Reds...The Expos picked up pitcher Javier Vazquez in the 5th round...San Francisco picked up two solid relievers in the early rounds, taking Bobby Howry in the 5th and Keith Foulke in the 9th. Unfortunately for the Giants, both players would have the majority of their success outside of San Fran.

Best late round picks: The Astros plucked shortstop Julio Lugo out of the 43rd round...Speedy outfielder Dave Roberts was selected in the 28th round by the Tigers, and the Red Sox still might be "cursed" to this day if he hadn't stolen that base in the ALCS against the Yankees...Boston picked up starting pitcher Carl Pavano in the 13th round...Slick fielding Placido Palonco went to St. Louis in 19th round...Flamethrowing reliever Kyle Farnsworth was selected in the 47th round by the Cubs.

The ones that got away: The White Sox took Canadian closer Eric Gagne in the 30th round, but he didn't sign...Minnesota took outfielder David Dellucci in the 11th round, but they were unable to come to terms...Pitcher Tim Hudson was selected by the A's in the 35th round, but he didn't sign until the A's picked him again in 1997...San Diego took power hitting corner infielder Troy Glaus in the 2nd round, but they were unable to come to terms...Baltimore selected current Rangers 3B Michael Young in the 25th round, but didn't sign...Outfielder J.D. Drew was able to conduct the 1st of his 2 holdouts when he was chosen in the 20th round by the Giants.

Other interesting picks: Future Indians 5th starter Scott Elarton was chosen 25th overall by the Astros...The Brewers selected IF Ronnie Belliard in the 8th round...Future Browns 3rd string QB Josh Booty was selected 5th overall by the Marlins out of LSU. Booty wasn't much better as a baseball player than he was as a football player, and that's saying something.

Indians June 1994 draft:
1. Jaret Wright, RHP
3. Rick
Jeiserman
,
RHP
4. Danny Graves,
RHP
5. Pepe
McNeal
, C
6. Gonzalo
Mojica
,
RHP
7. Russell
Branyan
, 3B
8. David Caldwell,
LHP
9. Brad Tiller, SS
10. Jay
Vaught
,
RHP
11. Blair Jensen, SS
12. Robert
Oldham
,
RHP
13. Scott Kramer,
RHP
14. Bryan Warner, OF
15. Quinn Murphy, SS
16. Julius
Matos
, SS
17. Thomas Bennett,
RHP
18. Ronald
Wallech
,
RHP
19. Darren
Stumberger
, 1B
20. Jim
Betzsold
, OF
21. Patrick Evans, C
22. Micah
Stovall
,
LHP
23. Lenny Weber,
RHP
24. Ted
Warrecker
,
RHP
25. Jonathan
Choate
, OF
26. Arnold Santiago, 1B
27. Christian Parker,
RHP
28. Ricky Gutierrez, 2B
29. Brian
Duva
, OF
30. Bruce
Aven
, OF
31. Heath Hayes, 3B
32. Scot Donovan,
RHP
33. Brad
O'Malley
,
RHP
34. Chris
Granata
,
RHP
35. William Hill, 2B
36. Tony
Dougherty
,
RHP
37. Chip Glass, OF
38. Todd Abbott,
RHP
39. Danny
Ardoin
, C
40. Marty
Heminger
,
RHP
41. Mike
Skeeles
,
LHP
42. Matthew
Culp
, 1B
43. Nick De La Cruz, SS
44. Chan Perry, 1B
45. Walter Owens, OF
46. Mike
Mastrullo
, 2B
47. Denny Wagner,
RHP
48. Zane
Gamewell
,
RHP
49. Gary Anderson,
RHP
50. Jimmy Jones,
RHP
51. Steven Ortiz,
LHP
52. James
Lowry
,
LHP
53. Tyler
Cheff
, C
54. Jason Walker,
LHP
55. Brian Wagner, C
56. Joel
Gallimore
,
RHP
57. Brad Thomas,
RHP
58. Jason
Morones
,
LHP
59. Chris
Enochs
,
RHP
60. Robert O'Brien, 1B
61. Randy Crane,
RHP
62. Juan
Mussenden
, 1B
63. Brian
Hincy
,
RHP
64. Sean Murphy, 3B
65. Jason
Gooding
,
LHP
User Comments
No comments currently. Be the first to comment!