Around the Farm: August 1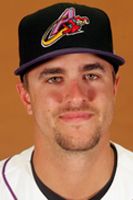 Around the Farm takes a quick look at some of yesterday's performances by Indians prospects throughout the system. The positions listed below are where the player played in yesterday's game.
Lonnie Chisenhall
-DH, Akron: 2-4, HR (12), 2B, 2 RBI, 2 R, K.
The Chizz has a nice little 7 game hitting streak going, during which he has 3 HR's and 10 RBI. His OPS has been on the rise since an injury-plagued May, and stands at .795 after he put up an .823 overall for the month of July. When Jared Goedert gets a shot at the 3B job, he'd better make the most of it, because Chisenhall won't be far behind.
Michael Brantley-OF, Columbus: 4-5, 3 2B, RBI, R, K. Hits in 9 of his last 10, and batting .378 and slugging .568 over the same timeframe.
Josh Rodriguez-SS, Columbus: 3-5, 2B, RBI. Also has hits in 9 of his last 10 games, and slugging .719 in that span.
Anthony Reyes-SP, Akron: 1 2/3 IP, 6 H, 9 ER, K, 4 BB. Ouchies.
Nick Hagadone-RP, Akron: 1 2/3 IP, 3 H, ER, 3 K, 2 BB. Getting better...
Rob Bryson-RP, Akron: 2 IP, H, 2 K, BB. That's more like it! Has yet to give up a run since his 1st appearance for Akron, and has more strikeouts than baserunners allowed.
Jordan Henry-OF, Akron: 2-4, 2B, R. Henry has an 8 game hitting streak going, and has a triple slash line of .486/.571/.629 over his last 10.
Casey Frawley-SS, Lake County: 4-5, 2 3B, 3 R. Solid day for the former 17th round pick. Showing more pop than expected this year with 8 HR in 364 AB's after hitting just 2 all of last season.
Adam Abraham-3B, Lake County: 2-5, 2B, 5 RBI, R. Has been sizzling of late, going for a line of .462/4/18 over his last 10 games.
Carlos Moncrief-OF, Mahoning Valley: 1-3, HR (4), 2 RBI, R, K. Batting a shade under .200, but does have 4 HR in 143 AB's.
Nicholas Bartolone-DH, AZL Indians: 4-5, 3 R, 2 SB. Speedy SS has 14 stolen bases, but just 3 extra base hits in Arizona.
Alejandro Villa-RP, DSL Indians: 5 2/3 IP, 6 H, 2 R (1 ER), 5 K. Has given up earned runs in just 2 of 12 appearances, with 17 K's over 20 1/3 IP.
Luigi Rodriguez-CF/2B, DSL Indians: 2-4, 2B, 2 RBI, SB. The 17-year old has an .818 OPS and 24 SB in the DSL so far.
Juan Aponte-1B, AZL Indians: 2-3, 2B, RBI. Flirting with .400 in Arizona after struggling with Mahoning Valley.
User Comments
No comments currently. Be the first to comment!